Lust och fägring stor
All things fair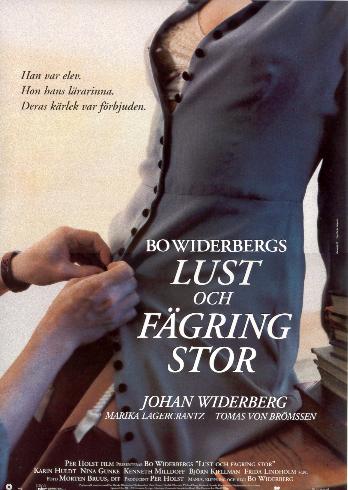 The plot of the film
The film is set in Malmö during the Second World War. Fifteen year-old Stig starts a relationship with his teacher, but it isn't long before the complications begin.
Cast:

Actor
Character
Johan Widerberg
Stig
Marika Lagercrantz
Viola
Tomas von Brömssen
Kjell
Karin Huldt
Lisbet
Nina Gunke
Stigs mother
Björn Kjellman
Sigge, Stig's brother
Kenneth Milldoff
Stigs father
Frida Lindholm
Olga
Sigge Cederlund
George Bisset
Gösta Ekstrand
Hilda Suovanen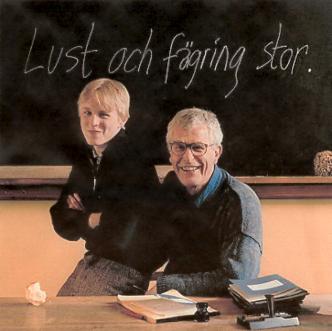 You can find more pictures from the film here.

Comments about and by Johan

How did it feel to kiss Johan Widerberg during the shooting of Lust och fägring stor?
Wonderful!
To a question in a chat with the readers of Aftonbladet 000529

– Things started happening with "Lust...". Dad wrote letters to me, that now it's getting close, I dismissed it, wrote rather harsh and short answers.
– That went on for a while. Finally I felt that the five years were enough. It was damn good to see each other.
– We met at the home of my older sister Nina and her husband. I agreed to go there, it was forced at first. Then the others left Bo and by ourselves with a bottle of gin on the table. What basically happened was that we drank it all. And that was that.
Johan on how it came that he ended the separation with Bo and started planning Lust och fägring stor

Bo thought it was fun, to tell everyone that there was an interest in me.
Johan on the Hollywood agents when he and Bo was in USA promoting Lust

Bo började prata om Lust och fägring stor när Johan var 11-12 år
Festivals
Miami Film Festival 31/1-9/2 1997

Singapore International Film Festival 4-19/4 1997

Wellington Film Festival 11-26/7 1997

Puerto Rico International Film Festival 30/10-9/11 1997

Göteborg Film Festival 30/1-8/2 1998

Atmosphères (Frankrike) 3-23/3 1998

Scandinavian Film Festival Seattle/Spokane 12-29/3 1998

Ankara International Film Festival 1-10/5 1998
Awards and nominations
The Silver Bear Berlin Film Festival

Juryns specialpris i Berlin

Premiär i Cannes? Presentation av arbetet

Presenterades i Lubecks Nordiska filmdagar där Bo var hedersgäst 96

europeiska film- och tv-akademins specialpris.
Comments and anecdotes
Producer was Per Holst who also made Pelle the conquerer where the lead was played by Pelle Hvenegaard who also played in Foreign Fields. Danska pengar behövdes
The title of the film derives from a psalm that is usually sung when school breaks for the summer. The first line is "Den blomstertid nu kommer, med lust och fägring stor...", which translates to something like "The blossoming season now arrives, with pleasure and beauty great..."
"The beetle is a nice animal. But I'll use the saw and give a piece to everyone who had a part in it."
Bo Widerberg The Film Gala 1996
Nominations for Golden Beetles
Best director
Best film
Best Supporting Actor
Best Actress
Best Actor
Audience Award Gothenburg Film Festival
Nominated for an Oscar in the category for Best Foreign Language Film